December 5, 2016
For readers who enjoy stories of amateur sleuths and puzzling mysteries, pick up any of these! They're perfect for the holiday season. 
Duck the Halls: A Meg Langslow Mystery by Donna Andrews. When someone rigs a cage full of skunks in the choir loft of the New Life Baptist Church, Meg Langslow must stop holiday pranksters from destroying the annual pre-Christmas concert, but when murder enters the picture, Meg must save Christmas from a vengeful killer.
Jane and the Twelve Days of Christmas: Being a Jane Austen Mystery by Stephanie Barron. Christmas Eve, 1814: Jane Austen has been invited to spend the holiday with family and friends at The Vyne, the gorgeous ancestral home of the wealthy Chute family. As the year fades, Jane and her circle are in a celebratory mood. Jane soon discovers though, that holiday cheer is fleeting. One of the Yuletide revelers dies in a tragic accident, which Jane immediately views with suspicion. If the accident was in fact murder, the killer is one of Jane's fellow snow-bound guests.
The Twelve Clues of Christmas (Her Royal Spyness Mysteries) by Rhys Bowen. While serving as an assistant to the hostess of a large Christmas house party in Tiddleton-under-Lovey, Georgie gets the attention of her retired detective grandfather after dead bodies begin showing up.
Christmas is Murder: A Rex Craves Mystery by C.S. Challinor. Christmas is murder-- when you're stranded in East Sussex with a killer. When guests at a secluded Victorian hotel start dying, all hopes for a jolly holiday are dashed.
Holiday Buzz (Coffeehouse Mystery Series) by Cleo Coyle. When she stumbles upon the dead body of a hardworking baker's assistant during the Great New York Cookie Swap, coffeehouse manager Clare Cosi and her boyfriend, NYPD detective Mike Quinn, spend their holiday poring over the clues to catch a killer.
Rest Ye Murdered Gentlemen (A Year-Round Christmas Mystery Series) by Vicki Delany. When her holiday float is sabotaged, Merry Wilkinson, the owner of Mrs. Claus's Treasures, must discover who the Scrooge is in Christmas Town after the dead body of a reporter is found and the evidence points to her best friend, Vicky.
A Killer's Christmas in Wales: A Penny Brannigan Mystery by Elizabeth Duncan. As the townsfolk of the Welsh valley town of Llanelen settle in for the snowiest winter in 25 years, an American stranger arrives. Harry Saunders charms the ladies and convinces Evelyn Lloyd, a wealthy widow, to invest money with him. When he goes missing with her money, his body is soon discovered with a letter opener belonging to Mrs. Lloyd in his back and it's up to Penny Brannigan to prove her innocence.
A Holiday Yarn: A Seaside Knitter's Mystery by Sally Goldenbaum. With the Seaside Knitters' help, Mary Pisano converts her charming inherited home into a B&B. Her first week is booked by her very own family, in town to discuss their grandfather's will, but when her cousin Pam—a Sea Harbor, Massachusetts, native—is found murdered, Mary relies on the Seaside Knitters to set things right. They gladly offer their skill for unraveling crime, but it'll  take all their crafty know-how to unravel this deadly tangle.
Fields Where They Lay: A Junior Bender Mystery by Timothy Hallinan. It's the week before Christmas in Tinsel Town, and the Edgerton Mall isn't exactly full of holiday cheer, despite its two Santas. The mall is a fossil of an industry in decline with a rampant shoplifting problem.  Enter burglar Junior Bender, the unwilling fixer for LA's various underworld bosses. The murderous Russian gangster who owns the mall hires Junior to look into the shoplifting problem for him. But Junior's surveillance operation doesn't go well: within two days, two people are dead. It's obvious that shoplifting is the least of the mall's problems. Meanwhile, Junior must confront his own deep-seated melancholy at the very notion of Christmas.
The Big Book of Christmas Mysteries by Otto Penzler. Sixty yuletide crime stories from authors such as Arthur Conan Doyle, Thomas Hardy, Agatha Christie, Ellery Queen, Sara Paretsky, and Mary Higgins Clark.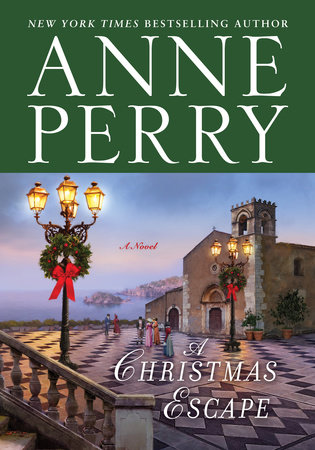 A Christmas Escape: A Novel (Christmas Stories Series) by Anne Perry. Lonely Charles Latterly arrives at his small hotel hoping that the island's blue skies and gentle breezes will brighten his spirits. Unfortunately, there's no holiday cheer to be found among his fellow guests. The one charming exception is orphaned teenager Candace Finbar, who takes Charles under her wing and introduces him to the island's beauty. But the tranquility of the holiday is swiftly disrupted by a violent quarrel, an unpleasant gentleman's shocking claims of being stalked, and the ominous stirrings of the local volcano. Then events take an even darker turn: A body is found, and Charles quickly realizes that the killer must be among the group of guests.
Festive in Death (In Death Series) by J.D. Robb. Personal trainer Trey Ziegler was in peak physical condition. If you didn't count the kitchen knife in his well-toned chest. Lieutenant Eve Dallas soon discovers a lineup of women who'd been loved and left by the narcissistic gym rat. While Dallas sorts through the list of Ziegler's enemies, she's also dealing with her Christmas shopping list-plus the guest list for her and her billionaire husband's upcoming holiday bash. Feeling less than festive, Dallas tries to put aside her distaste for the victim and solve the mystery of his death. There are just a few investigating days left before Christmas, and as New Year's 2061 approaches, this homicide cop is resolved to stop a cold-blooded killer.
Mistletoe, Merriment, and Murder (A Mom Zone Mystery Series) by Sara Rosett. Super organizer Ellie Avery could really use some Christmas cheer when Gabrielle Matheson, a grinchy professional rival, sets up shop in the same small Georgia town. But before the halls are even halfway decked with holly, someone uses Ellie's terrifically tasteless white elephant swap gift asa murder weapon and Ellie's now a suspect.